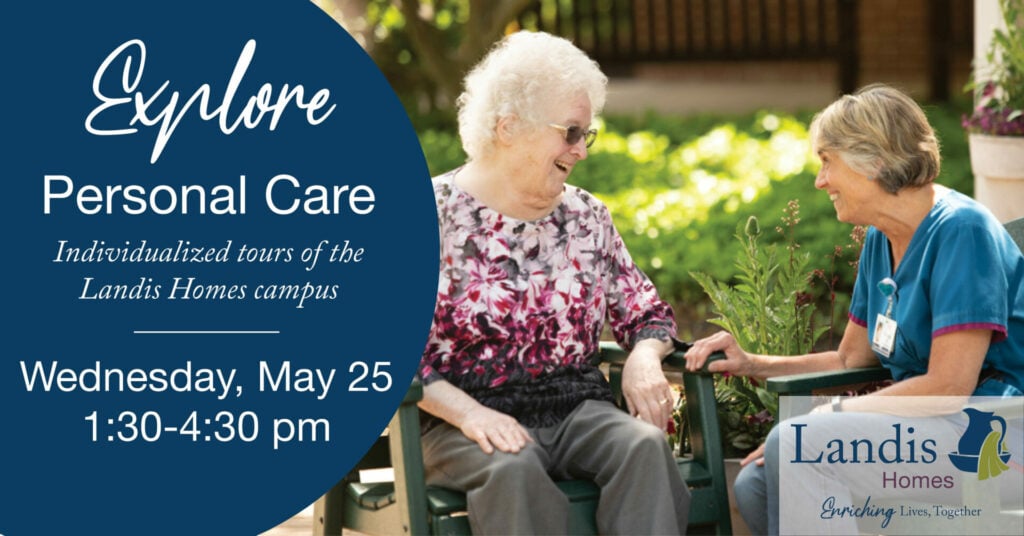 Wednesday, May 25th, 1:30 – 4:30 pm
Prospective Residents, their families and community members are invited to EXPLORE all that Landis Homes Personal Care has to offer by attending our FREE individualized tour of our campus on Wednesday, May 25, from 1:30 – 4:30 pm.
Personal Care at Landis Homes has everything you need to support your peace of mind including:
Fresh and delicious meals
Housekeeping, Laundry & Maintenance services
Utilities*and cable TV service
Assistance with activities of daily living, including skilled clinical nursing needs
Scheduled Trips off-campus, such as ice cream excursions, bus trips, or Barnstormers baseball games
Pastoral Services
Social & Recreational Activities
Priority Access to Healthcare
Social Services
WiFi Access
*Telephone services and direct Internet connection not included.
To find out more or to register, fill out the form below or call Susan Paul at 717-381-3597 to schedule your timed tour.
Register for Personal Care Open House
Feel at Home with Landis Homes Personal Care