The vision became a reality when Graybill Landis donated $100,000 as seed money and the Clayton and Ellen Landis family donated a farm in Landis Valley. The Board of Missions appointed a planning committee, followed by the creation of a subcommittee tasked with developing the retirement community.
The first residents moved to Landis Homes on February 18, 1964. "When I first saw the few buildings in the vast area of farmland, it was difficult to believe that this could be a retirement home," one new resident recalled. From that small beginning, Landis Homes has continued to grow to meet the increased expectations of changing times. By the fall of 1966, an increasing number of residents needed nursing care. Providing nursing care was an important part of continuing care for residents; without it many residents would need to move to a nursing home at another location.
In January 1967, planning began for the Dogwoo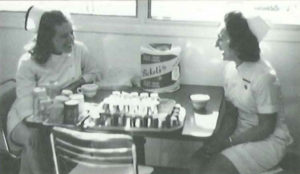 d nursing center. Construction began in 1968 and the first occupants were welcomed in 1969. With the opening of Dogwood, Landis Homes expanded the services offered into healthcare. Additional healthcare services arrived in 1973 with the opening of what is now Ephrata House and in 1998 with the opening of the Heritage Memory Support Center.
In the fall of 2003, a new healthcare center, Oregon and Manheim Houses, replaced Dogwood. The new center included space for a rehabilitation and fitness center and a laundry facility. The vacated Dogwood building was renovated and reopened in the spring of 2004 as a centralized location for administrative offices, a café, a gift shop, and a hair salon. In the fall of 2004 a building located at One Homebrook Drive was renovated and opened as the Children's Learning Center, which closed in 2020.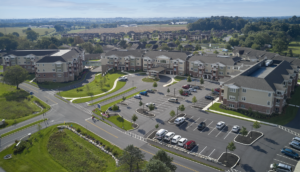 Since 2008, Pathways Institute for Lifelong Learning® offers two full semesters of classes annually for residents and other adults age 55 years and older in the Lancaster Community. During 2020, courses continued to be offered online to persons living both on and off campus.
In 2011, through action taken by the Landis Homes board, an umbrella organization known as Landis Communities began. Since that time, Landis Communities has become involved in many areas, including the creation of Steeple View Lofts, a fifty-five-plus community in Lancaster City, and the oversight of Welsh Mountain Home and Mountain View Terrace in New Holland. Landis Adult Day Services, Landis at Home are also part of Landis Communities. In 2019, Landis Adult Services served approximately 150 clients, prior to 2020 when the services combined into one large center and offered virtual day programs when they could not meet in person. At its peak, Landis at Home provided services to 397 clients either on the Landis Homes campus, or in the larger community prior to 2020 when services continued, but at a slower pace.
In 2018, The Crossings opened, which added three new buildings to the center of campus. When completed they provided homes for new residents in 79 apartments, in a location where 41 out-of-date smaller cottages had once stood. This allowed a connection for the first time between the healthcare and personal care areas of campus and the residential living areas of apartments and suites.
The Crossings central structure became a main entrance and the administrative center for both Landis Homes and Landis Communities offices. Named the Calvin G. & Janet C. High Learning & Wellness Center, it is also the location of the new fitness and aquatics center, Dale High Foundation Auditorium, Owl Hill Bistro, art gallery, salon and spa, pharmacy, bank and other community services.
Landis Homes is the oldest and largest entity of Landis Communities. In 2021, the retirement community campus serves over 850 residents and more than 500 full-time and part-time employees providing a continuum of services including residential living cottage homes, apartments, hybrid homes, residential suites, personal care, healthcare and memory support.
Landis Homes continues a tradition of providing care to residents who outlive their financial resources. In FY 2019-20, residents received benevolent care amounting to more than $3.8 million.
Through all the growth over the years, the original vision of providing for retired missionaries continues. Today dozens of retired missionaries live at Landis Homes, representing many years of service to mission work in countries around the globe. Landis Homes continues to fulfill its mission of "serving aging adults and their families by honoring and enriching their lives in a community of Christ-like love" with a renewed vision to be "leaders in serving."