Graceful Transitions
Any transition can seem overwhelming at times, whether that is packing up your home to downsize, unpacking following the move, or even just taking down holiday decorations and trying to determine how you will spruce up your home for the season. Graceful Transitions by Landis at Home is a concierge service that can lend a helping hand.
Graceful Transitions can help with a variety of tasks, including:
Packing/Unpacking belongings
Closet changeovers
Indoor/outdoor décor
Flower bed assistance
Downsizing or decluttering needs
Home organization
A valuable benefit of this service is the personalized coordination that comes with this service such as when assisting someone with a move or transition. Graceful Transitions can help with everything from:
Coordinating moves
Cleaning out accommodations
Layout/design of spaces
Figuring out what will fit in the new space
Sorting through items to determine what to do with those no longer needed and coordinating getting those items to the determined locations
Small repairs or fix-ups for home sale and home staging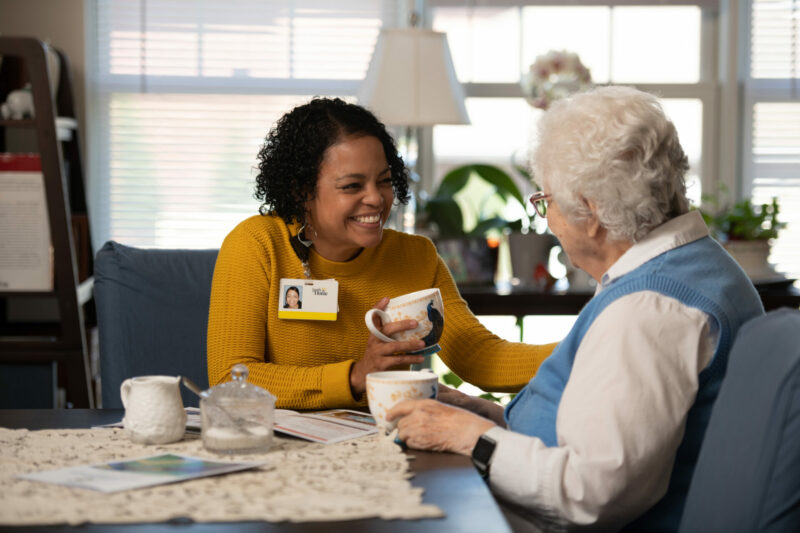 Peace of Mind
As you consider each season and all its awaiting adventures, remember that Graceful Transitions is here to help with home organization, packing, decluttering, and redecorating. You don't need to tackle organizing and packing on your own. Graceful Transitions is ready to partner with you as you embark on your next adventure, and ensure your peace of mind in a smooth and seamless transition!
---
Downsizing
Paring down a lifetime of treasured things can be difficult. Set a realistic goal for how much downsizing you will do each week, month and year. When you plan to move will dictate how quickly the process will need to occur.
Begin by inventorying every room in your house. Determine which items you will keep to bring to your new home, give to family, donate to a charity and throw out. Keep in mind that you will need fewer sets of towels, sheets, plates, silverware, and kitchen supplies in your new home.
If you plan to give things to your family, set a date by which all items need to be removed from your house. Anything not picked up by the deadline can be sold or donated. Consider auctions, consignment stores, classified ads, and internet sales like e- Bay to sell valuable belongings. Do some research to find the best places that you might turn to make donations. There are many charitable organizations that will be more than happy to accept items in good condition. Some of them might even pick them up from your home. If there are items that you don't want and can't sell or donate, call a local company that specializes in removal, which may be less than your regular trash hauler will charge.
There are businesses that specialize in helping seniors transition into retirement communities. They can provide services like helping you to decide what furniture to bring to your new home, disposing of unwanted items, arranging for your move including packing and unpacking on the day of your move.
Plan ahead to avoid overcrowding your new home. Start the downsizing process sooner rather than later so that you aren't rushing to do so when a crisis occurs. Don't be weighed down by all of your "things". It isn't an easy process but it will give you a sense of accomplishment when you are able to simplify your life and help others with your gifts and donations.
Selling Your House
Leaving a home can feel overwhelming. It is always a good idea to tell friends, family, church members and others that you intend to sell both for the practical assistance they can provide and the word-of-mouth spreading of the opportunity to buy your property. Price your house realistically to avoid having the home on the market longer than usual. You may want to consider a staging service to help make the space more attractive to potential buyers.
Here are some helpful questions that can guide your conversation as you discuss the sale of your real estate. We recommend interviewing two real estate professionals with the same topics to determine the best fit: What is the estimated value of the house? What is the length of time it takes to sell a house in your area? What needs to be done before house goes on the market? We recommend you pay for a professional appraisal, particularly if you have a unique property. A competitive market analysis may not be sufficient.
Be prepared to leave your home during showings. Realtors have found that prospective buyers spend more time in homes when the owners are not present and can better visualize themselves living in the house if you are not there during the tour. If you decide to have a public sale for your house and belongings, talk to an auctioneer well in advance so you can get on their calendar. Also find out the best time of the year for a sale and what fees are charged.
Incoming residents will have several months from the time you reserve your cottage, hybrid home or apartment before your monthly fees will begin. The day you pick up the keys to your new home is when your fees start and the balance on your Entrance Fee is due. The Residency Planning Team can share more details about how to move to Landis Homes before you have settlement on your home!
For appointments to discuss Personal Care, Memory Support, Healthcare, and Rehabilitation Care, call Jenn Givler at 717-381-3548.
Advice on Preparing for a Move
Residents Karen and Neil Musselman moved to Landis Homes in 2010 say:
Do your homework – learn about each community and set a list of questions to ask at each community you visit. Take good notes and then look back later and see which ones have the most of what you are looking for in a retirement setting.
Couples should decide together which belongings to bring along and which ones to dispose of and by what means; what to sell and what to give away or throw away.
Move when you are younger so that you can do it together and enjoy all the amenities the campus has to offer. (Both Musselmans enjoy opportunities to volunteer and to attend local art and cultural events. Neil also enjoys water volleyball.)
Director of Residency Planning Sarah Short shares these helpful points:
Contact a realtor or broker to find out the value of your home and what needs to be done in preparation for putting your house on the market in the future.
Set realistic goals for downsizing that include small tasks so it doesn't seem too overwhelming.
Do as much as possible in advance to prepare for a future move, because it is impossible to estimate when a cottage or apartment on campus may become available. Being ready can cut back significantly on stress.