Nathan and Arlene Hege were "two peas in a pod." Together, they served as missionaries in Ethiopia helping translate Christian books into Amharic and teaching in the local schools. Raising four children, they also served others throughout their careers. Nathan was a Pastor and Bishop in the Mennonite church, and Arlene was a Sunday school teacher. Together, they remained committed even after losing two sons in separate accidents and enduring life's joys and trials.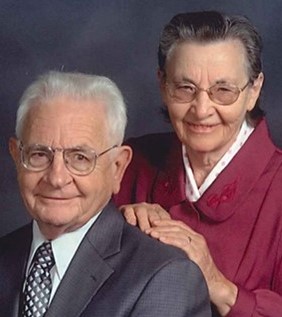 "I called Arlene the Theologian of our family. She was the first female in our congregation to go to college and graduate as a Bible Major. She had mission plans in her sights early. God called us to Ethiopia, and we served there for over 20 years. All her life, she remained firm in her beliefs and had a strong faith," Nathan shared.
Returning home, they both continued to serve in the Mennonite church with Willow Street Mennonite Church as their home base. Along with serving in the church, they enjoyed bicycling trips both locally and farther away. They read many of the same books and enjoyed reviewing them together.
After retiring, they decided to move to Landis Homes and became involved in the community. Unfortunately, Arlene started having difficulties with her memory. "She began forgetting how to do things that she used to do every day… write a check, play the piano, word games she enjoyed. It was hard, but we managed to live in Harvest View for two years that way. Eventually, Arlene had to move to a secured memory loss unit on campus. After several years, she ended up running out of finances."
Nathan began the process of qualifying Arlene for assistance. While not easy to do, he remained confident because he knew Arlene was getting the loving care she needed.
"I had no fear because she was able to benefit from the Caring Fund. Her care remained exceptional, and so she was able to maintain her pleasant spirit even up to her passing in November 2020. If anyone is considering giving to the Caring Fund, I would thank them and express appreciation for their commitment and involvement to help those who have run out of resources."
One way you can assist a resident who needs financial assistance is through gifts to the Caring Fund. The Caring Fund covers the gap between medical assistance and the cost of a resident's care. When you give to the Caring Fund, you are providing a resident with continued high-quality, loving care regardless what they can pay.