Many at Landis Homes remember the late Ann Bigelow from Sunday mornings at West Bethany Chapel where she would play the piano during church. Her joyful demeanor and passion for serving others were treasures to all who knew her at Landis Homes. As a former BSN-RN, she also invested in the growth of team members who want to advance their education and training in health-related fields.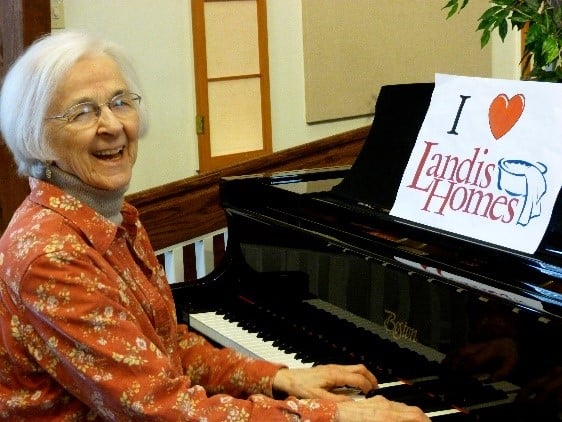 Ann's heart for others inspired her to choose the Scholarship Fund as one of two special designations for her estate.
After she passed away in 2016, an amazing total of $26,369.38 went into the Scholarship Fund. Since that time, several team members have been assisted with funding to further their careers in nursing.
Joseph Karanja is one of those special individuals.
Joseph became a team member at Landis Homes in March 2012. He was a Certified Nursing Assistant (CNA) at that point, but knew he wanted to be a nurse some day. He went back to school and became a Licensed Practical Nurse (LPN), but it wasn't until he desired to pursue his Registered Nursing license (RN) that he found out about the scholarship opportunity available to team members. At the encouragement of a fellow co-worker, Joseph went to Human Resources and applied for aid.
"It was awesome and exciting, but also humbling to be approved," Joseph Karange says.

"I was in banking for nine years in Kenya, but when I moved here, I knew I wanted to do something more. As a former CNA and then an LPN, becoming a Registered Nurse became my ultimate goal."
With the support of his wife, Lucy, who is also a team member, Joseph went back to school. It took him two and a half years while he worked and studied, but he finally graduated as a Registered Nurse.
"The moment I saw 'RN' on my tag made it all worth it, because I know what and who went into making that possible— from my wife's support to the scholarship funding. If I could tell Ann Bigelow one thing, it would be THANK YOU VERY MUCH for making it possible for me to be a recipient of the scholarship because it helped me achieve my number one goal of becoming an RN."
Ann's careful planning, coupled with her passion for helping residents and team members at Landis Homes, continues giving. If you are interested in combining your passion with your charitable goals, and want to know your options, please call the Advancement Office at (717) 509-5490 or visit us in the High Learning & Wellness Center. We are happy to assist you!